Shock-proof & Wear Resistant axle-centre alloy(YB/T5243-1993)
Relative Grade:40ХНЮ-ВИ,ЭП793 Russia
Grade and Chemical Composition (see Table1)
Table1 Grade and Chemical Composition
Grade

Chemical Composition (%)

C

P

S

Mn

Si

Fe

Cr

A1

Ce①

Ni

≤

3J40

0.03

0.010

0.010

0.10

0.20

0.50

39.0~41.0

3.30~3.50

0.10~0.2

Bal
① Based on addition.
Mechanical Property (see Table 2)
Table 2 Mechanical Property
Statue

Vickers Hardness/ HV

Commended Heat Treatment

Bend Test

The radius of the mandrel is twice as the diameter of the alloy

I

Ⅱ

Ⅲ

Cold Drawing

450~510

Bend 90 degrees. No cracks and broken on the outside of the bending

Cold Drawn & Aging

780~830

>830~880

>880

480~540°C

Keep warm for 5h
NOTE: 1、The default hardness classification of the alloy wire in cold drawing & aging status is class II.
Physical Property (see Table 3—Table 5)
Table 3 Coefficient of Linear Expansion
State

Coefficient of Linear Expansion/(10-6/K)

20~55℃

20~100℃

20~200℃

20~300℃

20~400℃

20~500℃

Solid Solution

12.2~12.7

12.4~12.5

12.6~12.8

13.0~13.1

13.5~13.6

13.8~14.0

Solid Solution&aging

11.0~11.5

11.9~12.0

12.0~12.2

12.4~12.5

12.7~12.8

13.1~13.3

Cold drawn & aging

11.6

12.0

12.1

12.4

12.8

13.3
Table 4 Modulus of Elasticity & Frequency Temperature Coefficient
State

Modulus of Elasticity

Temperature Coefficient βf/(10-6℃)

Mechanical Quality Factor Q20℃

20~-40℃

20~100℃

Solid Solution +80% Strain Rate

176500~196000

Solid Solution +80% Strain Rate+Aging 5h

225500~235500

-103~-106

-104~-110

49000~51000
Table 5 Magnetic Susceptibility & Resistivity
State

Magnetic Susceptibility

Resistivity

/(μΩ?m)

Density

/(g/cm3)

H=40KA/m

H:80KA/m

Solid Solution

3.5~4.5

3.5~4.6

7.6

Solid Solution+ Aging

3.8~4.0

2.4~4.2

Solid Solution+ Cold Drawing

2.8~3.0

1.21

Solid Solution +69% Strain Rate+Aging

0.78
Corrosion Resisting Property (See Table 5)
Table 5 Corrosion Resisting Property
| | | |
| --- | --- | --- |
| State | Salt Fog Test | Long-time store in the air |
| Cold Drawing+ Solid Solution+Aging | No corrosion after 240 hours (Tested by the buyer per JB1606) | No corrosion |
Usage: It is applied to produce the axle-centre of instrument and meter as well as the axle-centre of the staff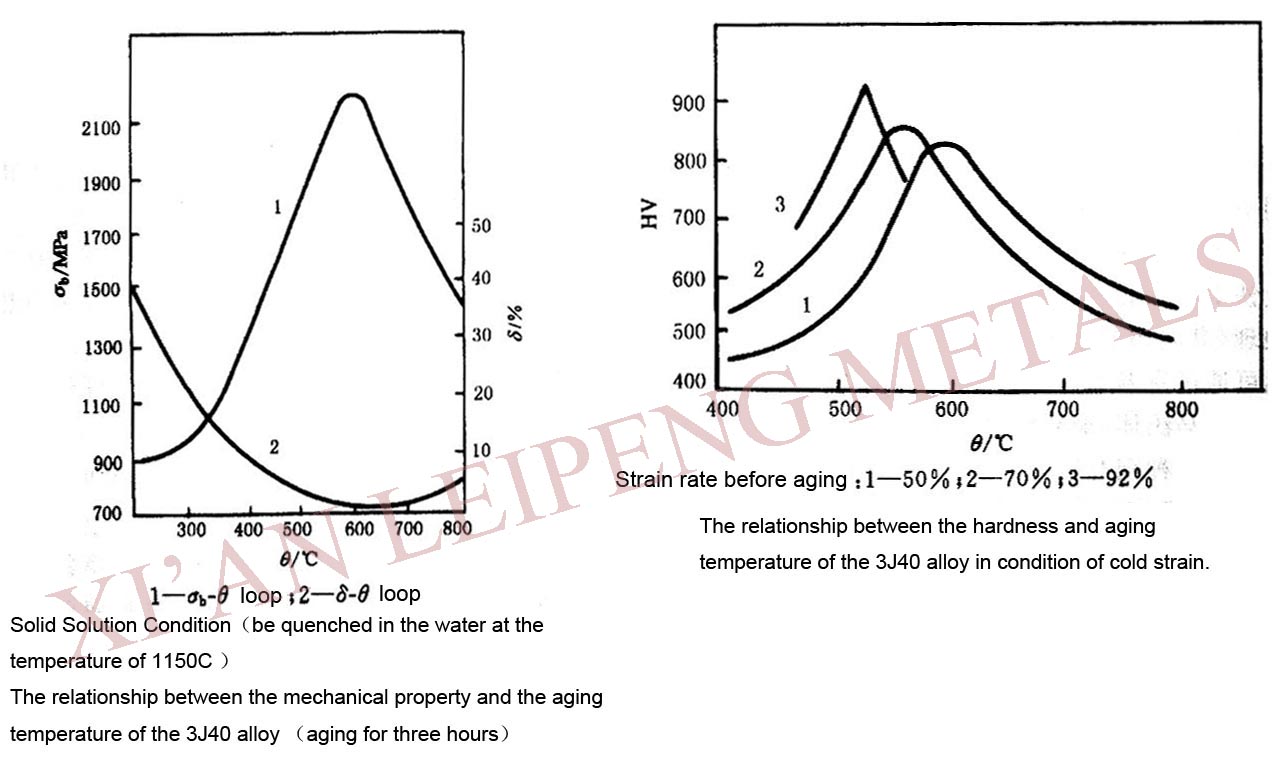 ---
Note: we could do any other products with specified technical standard, say, ASTM,SAE,DIN,S.E.W.,JIS,ISO,IEC,NF,BS,ΓОСТ.PLS contact us for more information: Tel: +86-29-89396652 or e-mail us at: Sales@xaleipeng.com